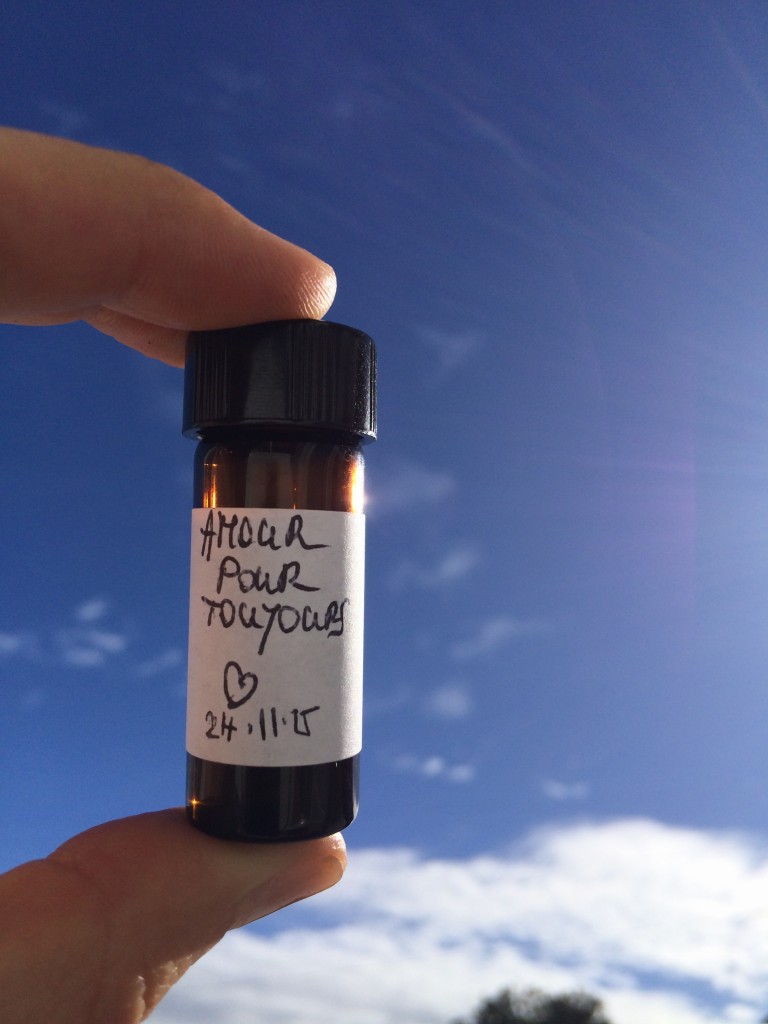 I have often felt like creating the magical scent to help in times of vulnerability, emotional turmoil, fear and anxiety. The past two weeks made it even more necessary. I made many trials before coming up with this one. I hope it will help you find some warmth, relief and love in your heart.
Note: it is easy and fast to create but maybe it will take a little extra time to find the proper ingredients. They can all be found online, in case your favorite organic store doesn't stock them.
What you need:
4 drops of tangerine essential oil; citrus reticulata: this oil has a very soothing effect on the nervous system, lowering stress and tension levels.
7 drops of rose essential oil; rosa centifolia: the fragrance of this rose variety is exquisite (there are countless rose varieties, as you may know. You can also choose rosa damascena if you like it best and if it is what you have available). Rose fragrance speaks directly to the heart chakra by bringing a feeling of relief and reassurance. It is said to uplift depressed states, ease the nervous system and lower feelings of stress. It also helps clearing negative emotions.
5 drops of Vanilla extract; vanilla planiflolia: vanilla is warm and comforting. It is sedative, relaxes the nervous system, lifts the mood and soothes angry, fearful emotional states.
3 drops of Chamomile; matricaria recutita: German Chamomile (blue chamomile) has a very unique scent, different from Roman chamomile. It almost smells like pear, especially the Cape variety. It relaxes the nervous system, feelings of anxiety and restlessness, bringing a feeling of relief.
8-10 drops of Neroli essential oil (orange blossom); citrus aurantium: to me, orange blossom scent comes from Heaven. It is like a sun ray and like a warm, luminous honey flavored zest. While relaxing and lowering stress levels, it uplifts the mood and relieves from depressed, angry and irritated states.
6 drops of Geranium rose; pelargonium roseum; it lifts the spirit, lowers anxiety and depressed states. It reduces stress and tones the nervous system. If you cannot find the Geranium rose variety, you can go for Pelargonium graveolens, which is more common.
40 ml of coconut oil (MCT)
A 40 or 50 ml dark glass bottle
Create:
Mix all the essential oils in the coconut oil, shake well.
The idea here is to have a very concentrated scent, so that it provokes some kind of olfactory « fix » to reach out to. But of course, you can dilute it more and use different vegetable oils too. The MCT is the best because it has no smell. Just carry the bottle with you all the time, smell it when needed, apply a few drops on your pulse points and maybe on both sides of the neck (always be careful to try on your inner arm first, to see if you are not allergic to one of the components). It will induce feelings of relief and comfort, lift blue moods and bring a bit of sunshine in the grey shades.
This information has not been evaluated by the Food and Drug Administration. It is not intended to diagnose, treat, cure, or prevent any disease. Don't use essential oils if you are pregnant or nursing. Keep them away from children and babies. Please refer to my « Do's and Don'ts section » prior to creating my DIY recipes:)