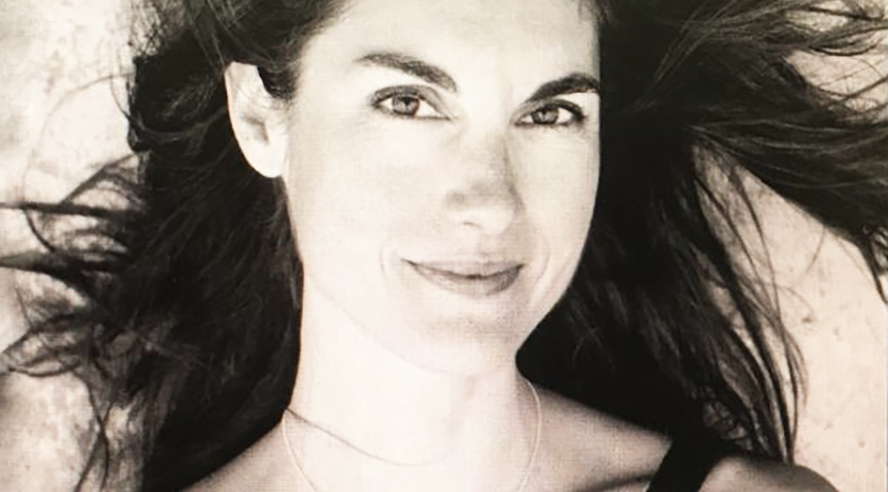 Photo by Yazemeenah
Caroline Wachsmuth is a Swiss born, French speaking multi-faceted healing artist. A yoga instructor and massage therapist for 20 years, an athletic trainer, author and natural born entrepreneur, she also creates beauty & lifestyle products. Always learning new skills, she became a Reiki master in 2020, and believes mind/body awareness to be the spine within us needing constant reassessment and ultimate care.
Caroline started her career as a journalist (art, wellness, psychology, art of living). Along the way, she founded a 10 year tenure award-winning skincare brand in Paris, the first certified organic skincare line in France. She lived and worked on 3 continents and 15 cities, and is currently based in San Francisco, California. You can also find her on Maui, Hawaii, writing something new, or organizing workshops and retreats.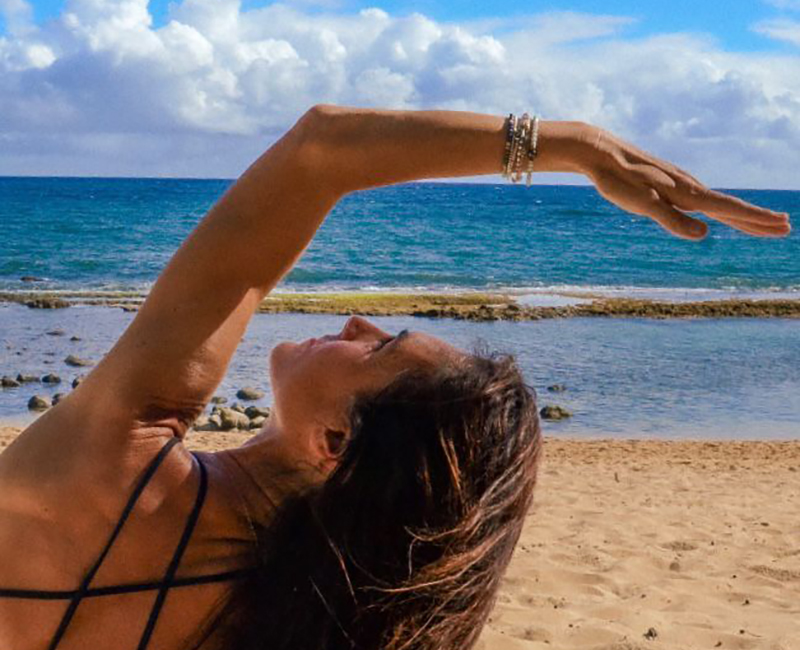 Photo By Kayleigh Jade Fenwick
Caroline is also the author of Seasons, a DIY beauty recipes and art book. The third edition is launching September 2023. A memoir will follow with a launch in February 2024.
As a therapist, she believes touch can heal, and that guiding others on the path to transformation is the strongest skill she was born with.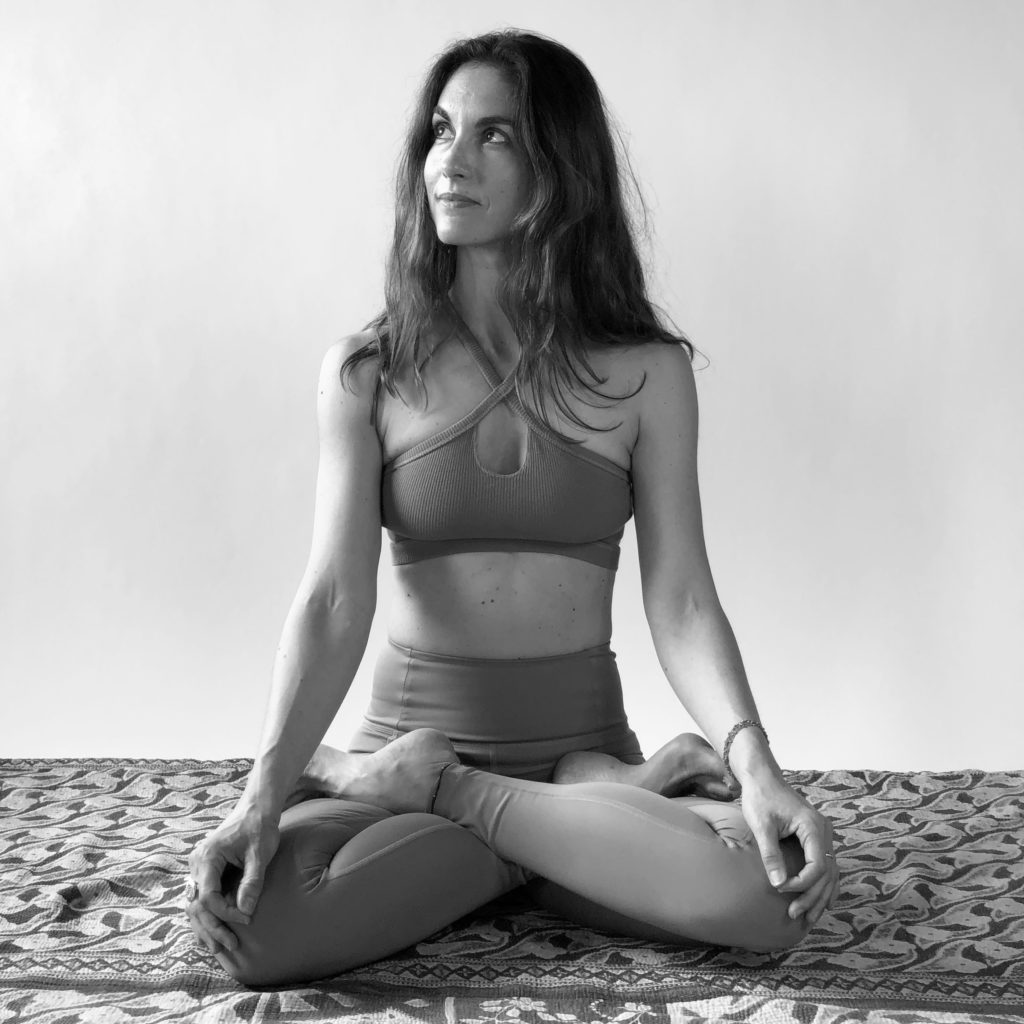 Photo © @kirstenmuensterjewelry
---
Collabs with brands
VIOLETTE_FR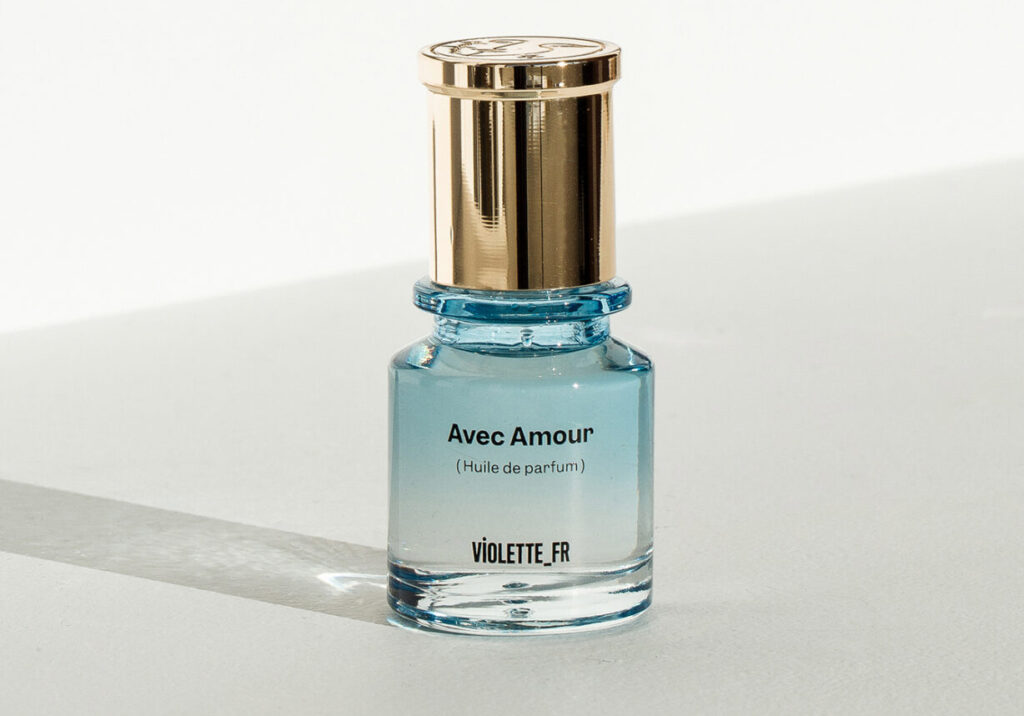 My dear friend Violette asked me, while thinking of creating her own brand back a few years ago: « will you collaborate? ». The beauty veteran in me said yes right away. Yet it's always the heart and the love you feel for a human and a creation that says yes. The brand got launched in April 2021 and it's absolutely gorgeous. Meet the 2 formulas I put my heart and passion into and call my babies: Avec Amour, the roll on fragrance and Boum Boum milk, the all over hydrating spray. Try them out and check the rest of the brand, which is a total gem!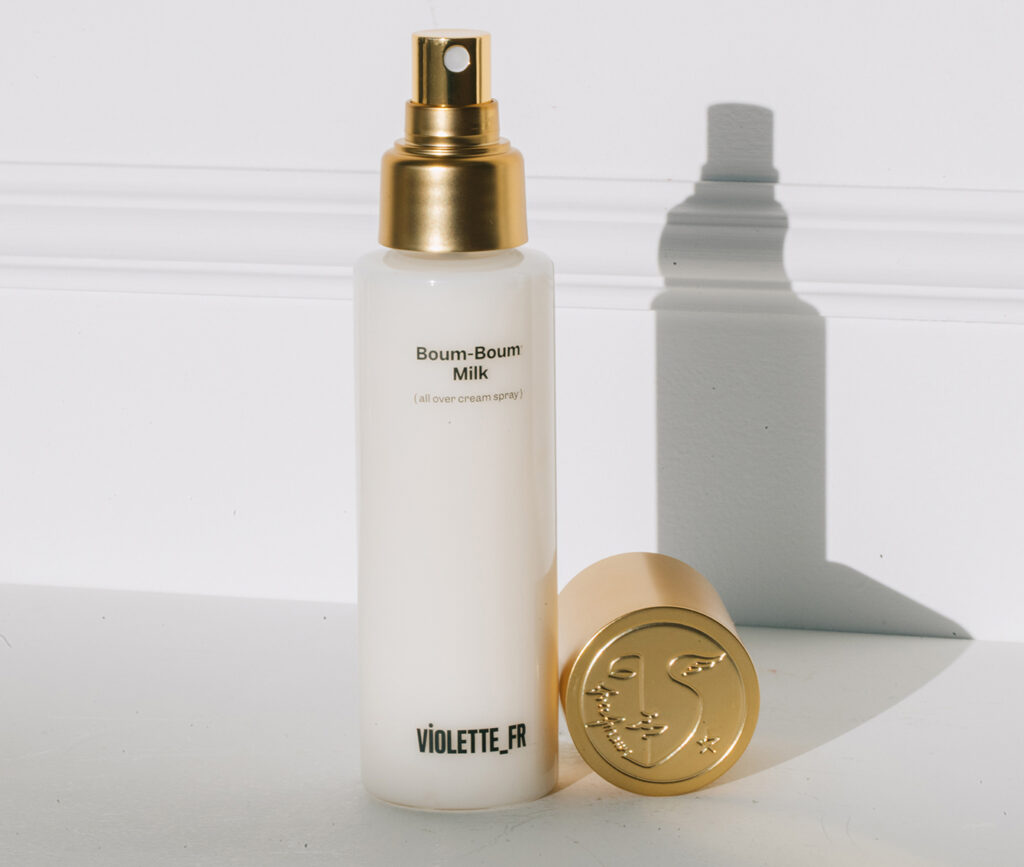 ---
Collabs: The 'Friends Collection'
CECILE'S ROSE OIL
This bespoke beauty oil has been formulated for Cécile Cassel, AKA "Hollysiz", a sexy French rock singer and very dear to my heart. Cécile has been one of the first, most genuine supporters of my previous organic beauty line. Her dream product is naturally coming as the first off the rank from the CarolineW Friends Collection. All details regarding this unique product and the Friends Collection concept are in the Friends Collection post, in the Beauty Book section.
Art Direction and illustration by Isabelle Rivoire-Grange.
---
ELISA'S PERFUME OIL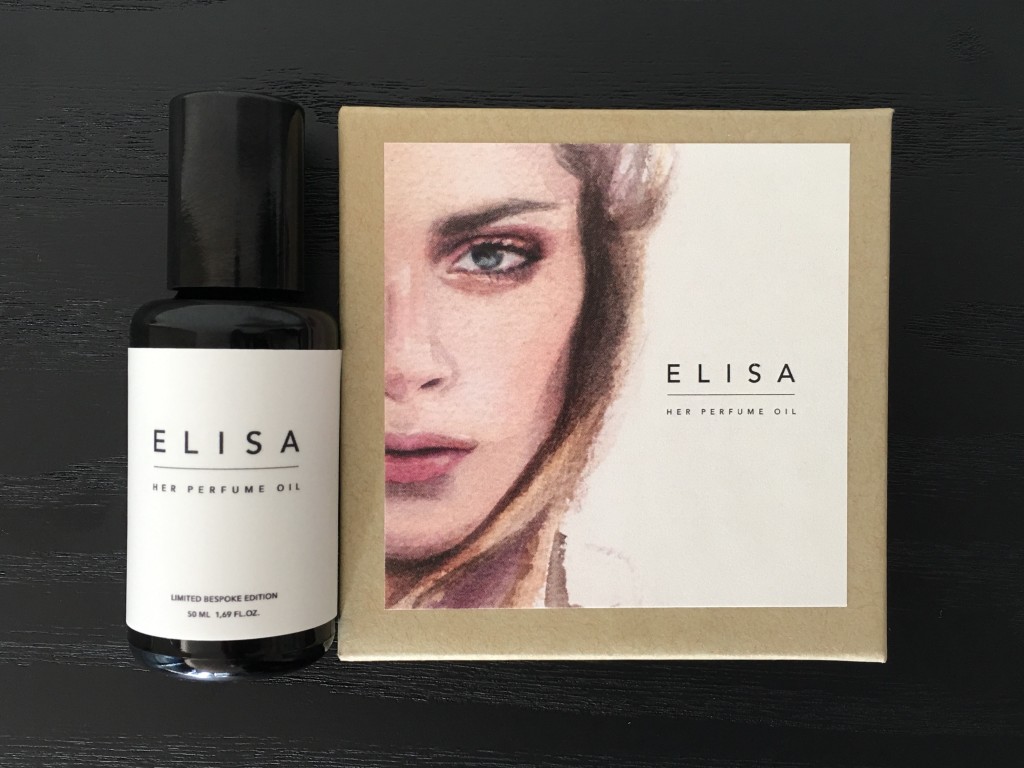 The second bespoke product of Carolinew Friends Collection is designed for Elisa Sednaoui Dellal, a multi-talented Egypto-Italian who started her career as an actress and model, and today focuses mainly on her true passion, social entrepreneurship, having founded the ESF Foundation in 2013 and been serving the UNHCR as a supporter for the last two years. She is also mom to Jack.
This perfume oil has been crafted for her own personal use only. It is entirely handmade and each ingredient is chosen according to her favorite smells and skincare criteria. Made of a proprietary fragrance blend mixing Jasmine, Tiare flower, Ruby grapefruit and other unique flower essences, this perfume oil embodies sensuality, femininity and warmth. It is made out of 100% natural and pure essential oils, vegetable oils and flower essences.
Special thanks to artist Marcela Gutierrez for Elisa's portrait.
---
CATHERINE'S PERFUME OIL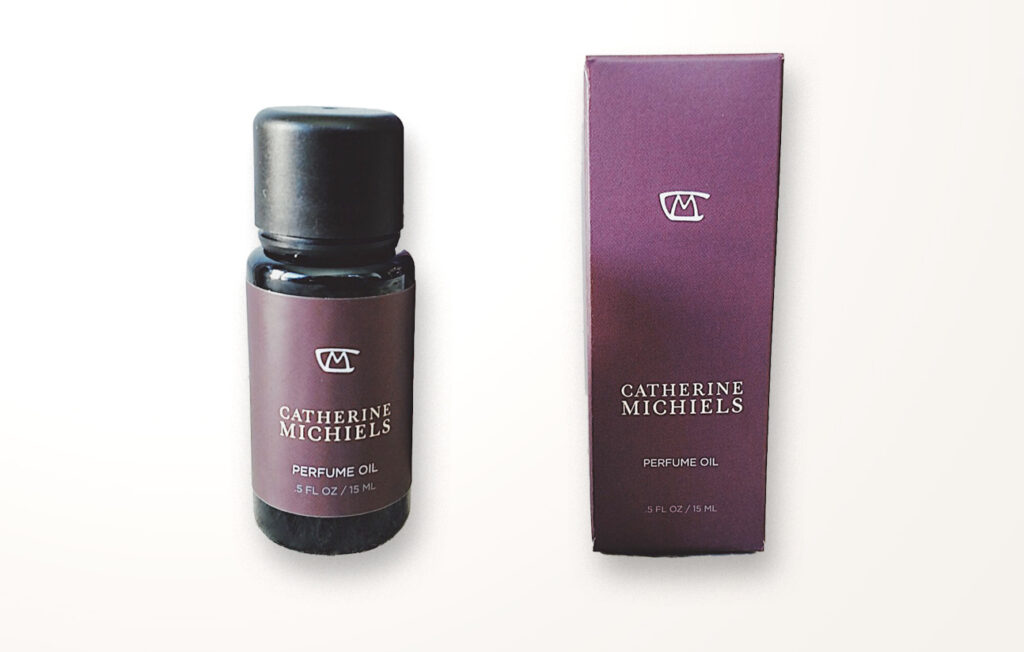 Introducing 'Mana 28', the bespoke perfume oil I made for astral sister Catherine Michiels . We met 25 years ago when working in the press industry. And followed our true callings ever since. One day, she asked me to create a perfume oil that would be totally 'her'. Made it, the alchemy is inside and her Mana 28 is now available to purchase on her website. Subtle mix of Jasmine flowers, bergamot, cistus resin, poplar buds extracts, lavender, coconut oil scents, and some Hawaian magic – photo by Catherine.
---
Creation: Doux Me
DOUX ME: THE FIRST ORGANIC CERTIFIED FRENCH BRAND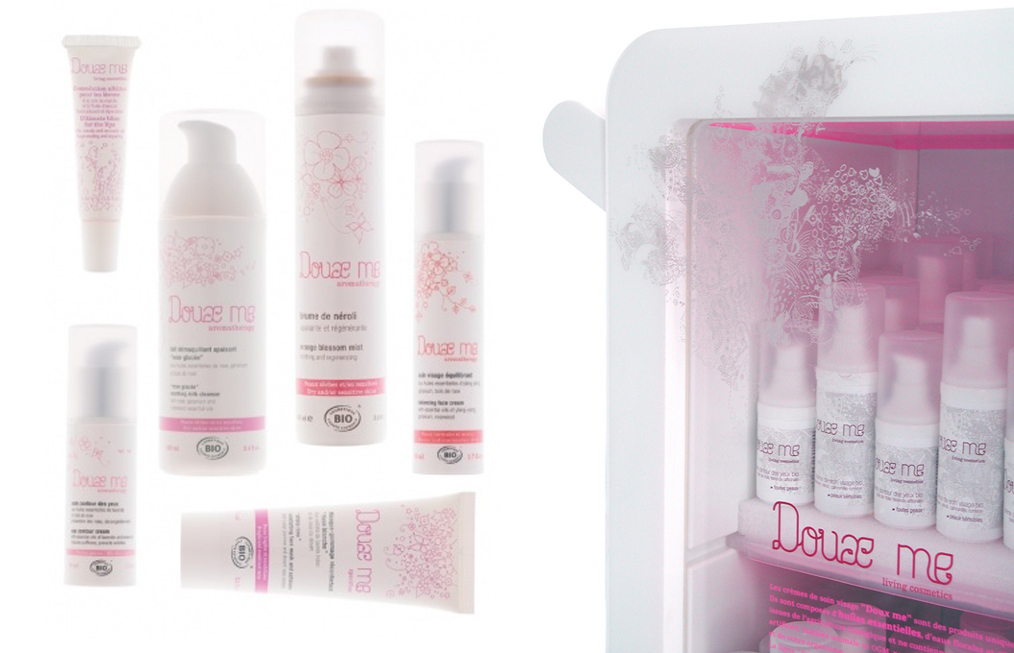 For those who don't know about Doux Me, I launched the brand in Paris in 2002, with just 4 face creams. It was the very first organic skincare brand in France to bear the Ecocert label. Ecocert was indeed just starting to build a guideline and standards to certify skincare and body care. Between 2002 and 2012, I launched 13 products, along an aromatherapeutic body oils range that was used in the Beautyroom, the little eco-spa in Le Marais. The brand won several prizes like the Beauty Challenger Prize in 2004 and the Creativity Prize in 2006, at Cosmeeting, the International Beauty Trade Show in Paris. The comforting face mask and scrub and the Lotion mist make-up remover were elected « best skincare » 2010 and 2011 by the Observatory of Cosmetics. I sold the brand in 2012. It is very different today.
The products were displayed in a little see-through, customized cooler. The idea was to have everyone think about the fact that applying beauty products on their skin daily is the same as eating food. The ritual of storing our beauty products in the fridge reminds us of the importance of taking care of our skin. This whole idea became reality thanks to French designer Olivier Peyricot.
---
DOUX ME BEAUTY ROOM
This is the healing sanctuary I created in the heart of « Le Marais » in Paris. A small, cosy room where we could come to experience the most amazing body massages, facials and energy work. It had so much soul and vibrance. Some clients would even sometimes stay for an hour after their treatment, enjoying a delicious cup of tea.
Picture: Coco Amaradeil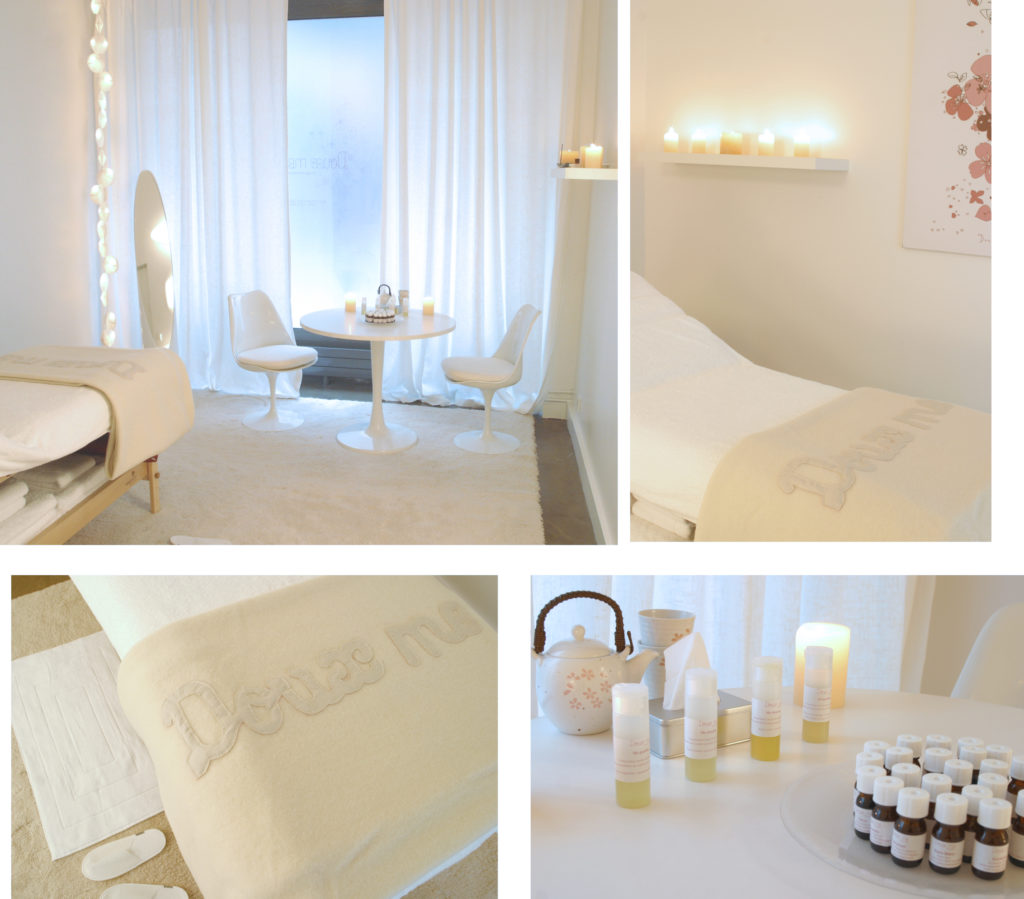 ---
DOUX ME CHARM WITH CATHERINE MICHIELS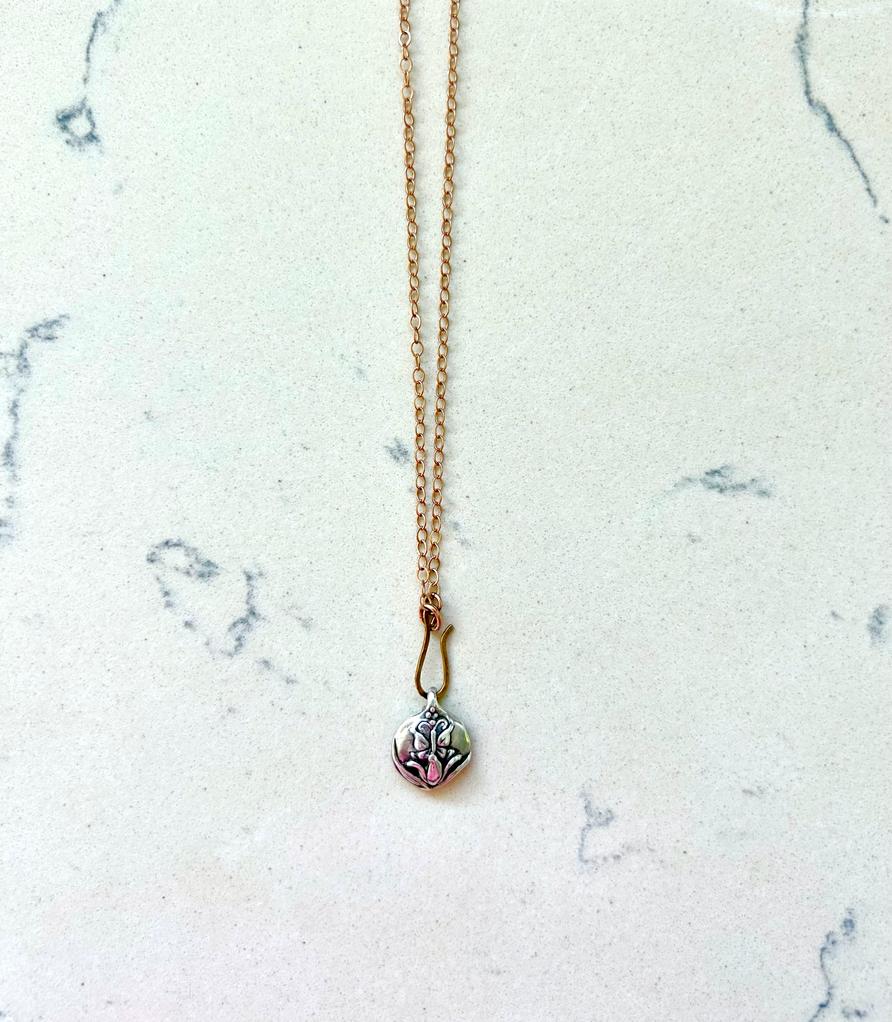 This is a very precious collaboration with my talented jeweler friend Catherine Michiels, a silver charm where she carved two of my favorite symbols: a Lily and a butterfly coming together as one and only pattern evoking beauty, friendship and reinvention. The silk can be of any color, but this rainbow one is my favorite at the moment. It's available on demand.