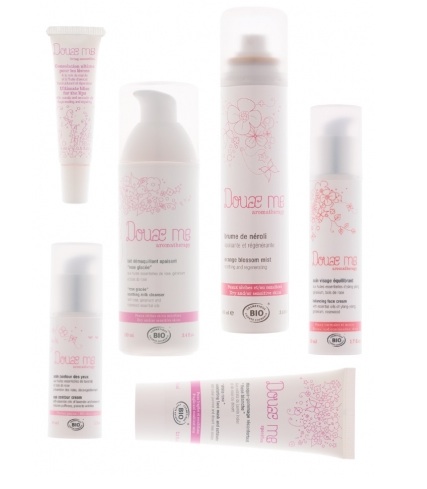 I love this picture. It is light, soft and pure. It reflects what Doux Me was all about.
For those who don't know about Doux Me, I launched the brand in Paris in 2002, with just 4 face creams. It was the very first organic skincare brand in France to bear the Ecocert label. Ecocert was indeed just starting to build a guideline and standards to certify skincare and body care. Between 2002 and 2012, I launched 13 products, along an aromatherapeutic body oils range that was used in the Beautyroom, the little eco-spa in Le Marais. The brand won several prizes like the Beauty Challenger Prize in 2004 and the Creativity Prize in 2006, at Cosmeeting, the International Beauty Trade Show in Paris. The comforting face mask and scrub and the Lotion mist make-up remover were elected « best skincare » 2010 and 2011 by the Observatory of Cosmetics. I sold the brand in 2012. It is very different today.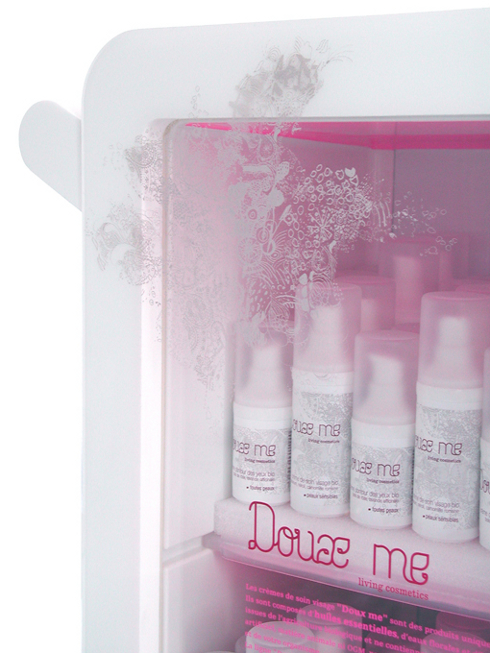 The products were displayed in a little see-through, customized cooler. The idea was to have everyone think about the fact that applying beauty products on their skin daily is the same as eating food. The ritual of storing our beauty products in the fridge reminds us of the importance of taking care of our skin. This whole idea became reality thanks to French designer Olivier Peyricot.