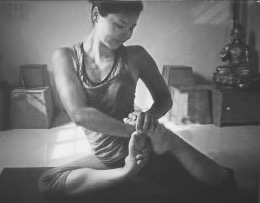 I love this pose because it captures a moment of being. It was my first time trying this pose, and I didn't know what the pose would look like, but I had faith as my master talked me through it.  When my toes touched, he grabbed my camera and took the photo. So the photo itself is even more special because it is me as seen by my master. In a glance, there is a moment of yoga, no striving or thinking, just the joy of being.
I believe that yoga is a personal experience, and each individual will tune into the path that is right for them.  For me, bheemashakti yoga and ashtanga are very complementary to each other, and are the basis of my physical yoga practice.
Bheemashakti is a yoga system that energizes and opens the body in 7 different dimensions.  Kapalabhati breathing is basis of this yoga system, and this system also includes a variety of exercises that open and energize the body in preparation for asanas.  Since ashtanga is a series of asanas, these two systems work very well together.  Ultimately, the practices allow me to feel and get deeper in meditation as well as my spirituality.