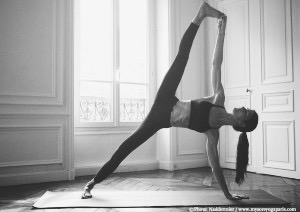 Patanjali's very definition of yoga is of course 'complete stillness of the mind'.
For me, balancing postures like this one brings me right down to the core of that message, to the very essence of yoga.
To balance I need to be in the present moment which is timeless and still: in fact it is Yoga. The second that the present slips from my attention is the moment I find myself back in the movements of my mind and so loosing my balance and loosing Yoga… Vasisthasana is the first asana of the Advanced A series, and it shows me in an instant if I'm preforming a posture or practicing Yoga.