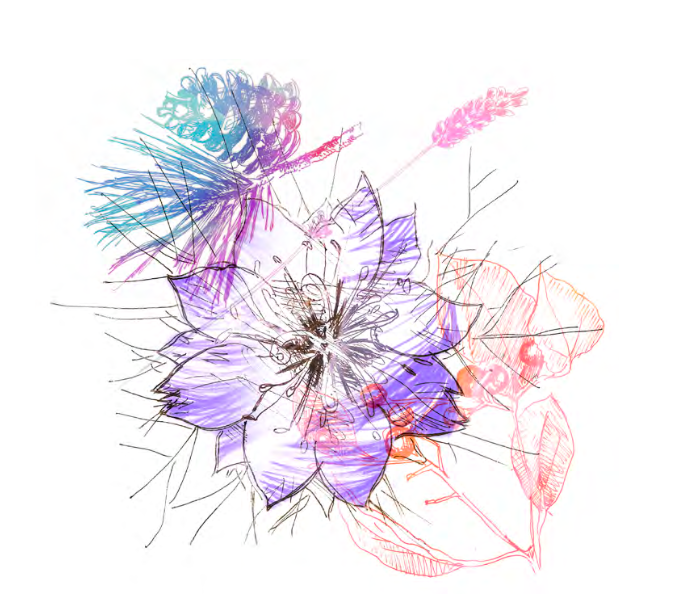 I created this recipe in NYC, while experiencing one of the most intense and humid heat. I was dreaming of diving into cool waterfalls, with fresh and pure wind blowing all over my body.
Whether spending your Summer in a polluted city or in a chlorophyll filled countryside, a refreshing hydrosol and a purifying mask are definitely among your essentials. There are 4 ingredients only to use in this recipe and out of them, you already have your flower hydrosol ready (hydrosols are charged with carboxylic acids, which have a anti-inflammatory and calming effect on the skin, they mildly contract the skin and stimulates the blood flow). The pink clay has very powerful cleansing properties on its own. Adding my combination of essential oils brings an exquisite fragrance as well as effective antiseptic and cythophylactic properties (regeneration of skin cells), but you can also decide to choose only one or two essential oils, depending on your olfactory taste, your mood and of course, your budget.
What you need:
A small bowl or glass, a teaspoon, a wooden stick (if you have it handy, otherwise try and use a compostable spoon) organic Rose hydrosol (buy 100 ml or 200 ml), 100% pure or organic neroli essential oil, jasmine absolute (therapeutic grade), 100% pure or organic rose essential oil and pink clay (preferably in powder).
How to create your recipe:
Take 3 generous tea spoons of pink clay powder and put them into a bowl. Add 30 ml out of your organic rose hydrosol (and place the remaining in the fridge). You can add a little bit of distilled water if you think it's not feeling enough like a paste. Then add one drop of each essential oil.
Make sure you mix thoroughly until it becomes a really smooth paste. Then, apply a thin layer on your face, especially on your T-zone. Of course, this is AFTER having cleansed your skin with a mild face cleanser. Once the mask is on, wait about 10 to 15 minutes max. Then rinse off with fresh water. Pad dry with a soft cloth. Then spray your rose hydrosol all over the face and neck, preferably straight out of the fridge for a hyper refreshing and pore tightening effect.
My personal final touch: put a drop or two of rose hip seed oil on your fingertips and lightly tap around your eyes, mouth and neck. The skin glows, the pores are cleansed and tightened, the blood flow is stimulated and the enchanting smell of the mixed essential oils will remain for a while.
Last recommendation: do this at least twice a week. Enjoy:)
This information has not been evaluated by the Food and Drug Administration. It is not intended to diagnose, treat, cure, or prevent any disease. Don't use essential oils if you are pregnant or nursing. Keep them away from children and babies. Please refer to my « Do's and Don'ts section » prior to creating my DIY recipes:)